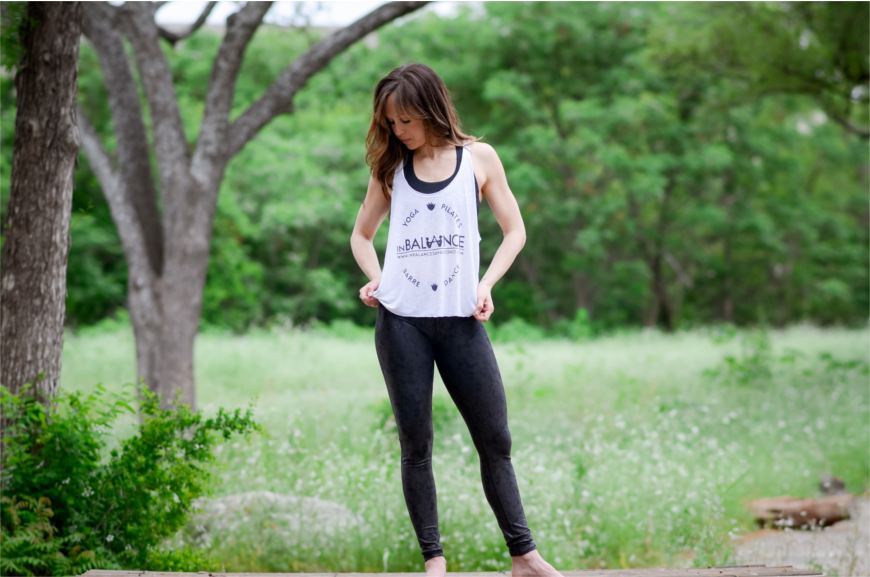 Check out what is going on in September at inBalance!
Balance, Breathe and Bliss: inBalance Barre and Yoga Tune Up Workshop with Carolina and Diana
Athleta La Cantera Studio of the Month!
Join Hope each Saturday of the month in September for a different inBalance class, all for free! Check the schedule for specific classes, they all start at 8:30 AM!
Saturday, September 9, 9:30-11 AM
Join us for a morning of total body work and restoration. We have engineered the ultimate integration of classes for a complete mind body experience: inBalance Barre® and Yoga Tune Up unite! First, Hope will provide you with our signature inBalance Barre® class, providing strength, toning, and a full body workout; we will finish out the workshop with Roll to Restore with therapy balls with Yoga Tune Up expert, Diana Duncan. In the Roll to Restore portion of our workshop we will use Yoga Tune Up® therapy balls to release tension, encourage ease and suppleness in your hardworking body and support a smoother and faster recovery time. Massage with therapy balls works with your body's natural repair process enhancing the natural movement of cellular waste through deep tissue massage. Self massage is a relaxing and refreshing way to move the muscles, fascia and joints and create space for fresh nutrition and ultimately a faster recovery. (* Therapy Balls available for purchase after class $15.00)
Cost: $25
---
Relax and Roll Workshop with Ashley
Saturday, September 16 from 10:30-Noon
This 90 minute class will blend some hatha and restorative yoga with the foam roller to loosen up knots and fascia and relieve tension. Don't know what fascia is? It is the webbing of connective tissue that binds the skin to the muscles and organs. This tissue picks up tension and needs releasing. Use this session to learn how to use the foam roller to release tension in fascia and muscles. After a prescribed set of exercises on the foam roller, class will continue with some simple stretches and end with time for relaxation in order to completely release tension and rejuvenate the lymphatic and nervous system.
Cost: $25
---
Bollywood Dance Workshop with Yashvi
Friday, September 22 from 6:00-7:15 PM
Bollywood is India's and the world's largest movie industry! Each movie is a musical with bright colors, intricate choreography, and unique rhythms. Bollywood dance combines the rich culture of India's many classical and folk dances, fused with elements of Hip-Hop, Jazz, Latin, and Arabic forms. This workshop will showcase this vibrant culture of Bollywood dance! Learn exclusive choreography to upbeat music this fall!
Cost: $20
---
Prenatal Workshop with Erin
Saturday, September 23 from 9:30-11:00 AM
Come join us for a fun, energizing, yet gentle workshop designed for mommies to be. Developing conscious awareness of breath creates an open link of communication with the body that translates to more intuitive discoveries, and unfolds a deeper awareness of the 'female' power we engage with in the birthing process. In this workshop where we'll introduce age-old techniques of mantra, mudra, pranayama breathing, and appropriate asanas (postures) for strengthening the body, mind and spirit for both mommies and babies! The pre-natal program is open to women in every stage and trimester of pregnancy. Enter a peaceful, serene, and nurturing environment designed to stretch and strengthen muscles, energize the body, soothe aches and pains, relieve stress and anxiety, overcome the common discomforts of pregnancy, and develop proper breathing and relaxation techniques. Connect with a growing community of expectant mothers as we learn poses that emphasize stability, flexibility, and vitality. It will be an excellent preparation for birth through breath, body and awareness!
Cost: $25