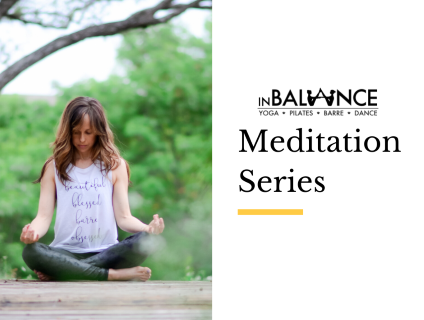 We're so excited for this next series of classes! Meditation is a growing trend and it can be initiating or downright weird to some, or maybe even seems like a waste of time to others! We're using the rest of 2019 to demystify the whole experience for you and keep you grounded as you get into the busy holiday season.
Our meditation series is created for those new to mediation as well as those who want to improve their practice with our guided themes throughout the rest of 2019!
Basics of meditation
Nov 22 at 5:30 PM
Dec 8 at 9 AM
While meditation has been around for thousands of years, many first time meditators find it strange to sit in silence with their thoughts or just to sit with nothing to do… but that's ok! Mediation is simple to learn while providing endless benefits and is the ideal way to relax, calm your mind, sleep better improved you mood and your health and handle stress better. This workshop will demystify mediation and provide the foundational practices to begin a mediation practice as well as practical methods to enjoy meditating in a steady, comfortable way, so that your meditation practice will create a calm, spacious feeling in your mind.
This workshop is suitable for those who are entirely new to meditation as well as those with a regular meditation practice who want to improve their practice
Mediation for stress and anxiety
Dec 6 at 5:30 PM
Dec 15 at 9 AM
Understanding anxiety is the first step in managing it. When we have a better sense of triggering situations, we are able to have a better grasp of managing it. Through mediation, we can familiarize ourselves with anxiety inducing thoughts, and when we can find them and see them, we can let them go. This allows us to change our relationship with anxiety.
In this workshop, you will learn how to counter the stress response, which leads to decrease in blood pressure, heart rate and oxygen consumption… and overall peace of mind! Meditation and breathing techniques learned in this workshop will create the relaxation response where you will start to see real changes and provide techniques the price a safe place that can be accessed whenever anxiety or stress starts to creep in.
Meditation for awareness and focus:
Dec 13 at 5:30 PM
With mindfulness, we develop concentration and awareness. A focused , concentrated mind is flexible, alert and insightful. This workshop is designed to help participants understand and cultivate awareness through gentle movement, focus on the breath, active listening, and the encouragement of a kinder, more compassionate way of relating to their mind and body. Creating mindfulness, as taught in the workshop, offers practical methods to avoid mental and physical burnout, increase your ability to relax and cope with stressful situations, release tension, increase energy, and cultivate skills in being present to bring more joy, creativity and happiness into life.
Mediation for gratitude and loving kindness
Dec 14 at 11 AM
Gratitude is strongly and consistently associated with greater sense of happiness and well-being, while also relieving depression, improving immune function and strengthening our relationships with others. Gratitude helps us to shift perspective and open up our minds, allowing us to release ourselves from negative thoughts, while also helping us find perspective and reminds us that we can still expire joy and calm even in the midst of our busyness and challenges of life. In this workshop, flow between stillness and movement with yoga and guided meditation. You'll learn a variety of practices and techniques to cultivate well-being and how to integrate these practices into your life.
Current inBalance members can use their membership, and non members can purchase a drop in for $22.
Use the link to sign up!
https://www.inbalancestudios.com/leonsprings/