Our Signature 8 to Great Program is an 8 week total wellness program that will transform how you eat, live and feel.
At inBalance, we take a holistic approach to health by putting the entire equation together with both nutrition and fitness. We believe that in order to reach your goals and become your strongest, healthiest version of YOU it takes a comprehensive approach.
And this is what our 8 to Great Program is about. Hope will help you establish your goals for your own health, and them empower you with the knowledge, mindset and tools you need in order to succeed. Whether you are looking to drop pounds, shed body fat, you're looking to get active, looking for guidance or new education or wanting to recalibrate your life or just need a push and some accountability, this transformation program is guaranteed to get you stronger, leaner, full of energy and vitality.
This 8 week program is not just about the number on the scale; it is about achieving an attainable and sustainable life through nutritional knowledge, a healthy mindset, and the information you need to create balanced meals for YOUR body and for YOUR goals and for YOUR lifestyle. This program is about finding balance, both physical and nutritional balance, as well as a balance in life, finding a way to balance life's responsibilities with making your own health a priority.
8 to Great At a Glance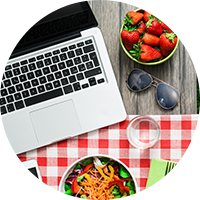 Easy to Access Guides
3 easy to access guides to download along the way that contain all your program materials and information. You can download it right to your phone, tablet or computer. Keep them with you to access anywhere.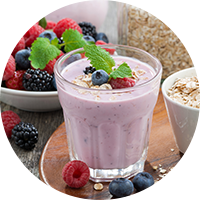 Detox
Repair your body from the wear and tear from those less-than-healthy decisions you've made over the years. Create a solid foundation with new healthy and sustainable habits with a gentle detox to clean out all the gunk that has been trapped inside, getting rid of things that cause inflammation like sugar, processed foods, alcohol, and add in things that will help calm inflammation and rid your body toxins to prepare for that internal transformation that is coming your way.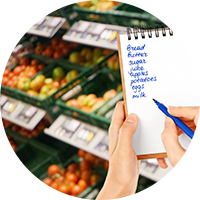 Shopping List and Meal Plans
Shopping lists, Supermarket sweep and custom meals plans are all included in the program. Plus, recipes and a guide on healthy swaps so you can take what you learn into the real world and and still eat what you like. We've done all the planning to save you time and worry!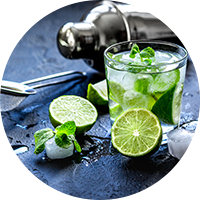 Social Survival Guide
Stage 3 is all about bringing what you have learned into the real world. It's so easy to slip up in social situations, unless you're prepared with strategies that work and help you feel confident! This guide will help you navigate these tricky situations and show you how to work around your travel obligations.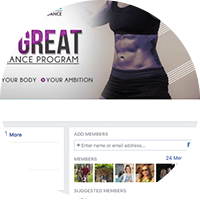 Community
A private online community of current and alumni of the 8 to Great program- because there is no reason you should do it alone! Connecting with other participants, past and present, and with Hope will help you say accountable and meet your goals.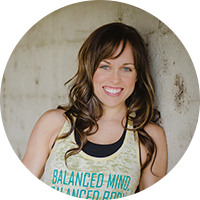 Group Coaching
Hope leads you through this program every step of the way. With weekly emails our private Facebook community, and direct access to Hope, you have unlimited access to answers you need throughout the program!
"What people are saying about 8 to Great"
I have been a regular gym goer for 20 years. I love to sweat and feel strong. I joined the 8 to Great program to shake up my routine. During the 8 weeks I've learned a couple of things. First, refocusing on nutrition makes the biggest difference. Portion control and making better choices have always been my problem. Hope gave us a lots of tips and recipe ideas to keep us on track. My body craves healthy food more than ever. Secondly, I don't have to kill myself with boot camps and heavy weights to get results. Don't get me wrong, Pilates and Barre equally are challenging and make me sweat and get my heart rate up. After 8 weeks, I've lost 5 pounds, 2 inches on my waist and 3 inches on my hips. Apart from physical results, I've had fun and laughed along the way!
~K.W.
I wanted to send you a note of thanks for helping me on my path to wellness. For years, I have had a personal battle with my body. Quite frankly, just never truly loved it. I also know that unless we love ourselves as we are then we block the light that shines from us to others. Through some work and transformation, I am seeing the light! I am feeling stronger and starting to see my health in a different way. Although it is great to slip into my skinny jeans, that is not my number one goal. I'm really seeing positive changes. Thank you for creating an environment that not only supports good health, but a great spirit!
~M.W.
I am in my mid 40's, in pretty good shape, and ate healthy (or so I thought) most of the time. I joined the 8 to great program with the simple goal of losing 5 stubborn pounds. What an eye opening experience it has been. Hope taught me that eating healthy is about so much more than counting calories and that there can definitely be too much of a healthy food. This experience has truly changed my dietary habits for the better and I'm seeing and feeling the difference every day. Hope is truly a professional and an expert. She answered all of my many questions thoroughly and quickly. I am so happy I decided to participate!!!!
~K.P.
How does it work?
This Program is broken up into 3 stages. Hope has created a step by step plan that takes you through all the steps required to make meaningful and lasting changes in your life, from auditing your pantry, your current diet, your mindset, as well as proving ample education about the foods that you should be including in your diet, how to incorporate these, eating for your body type and how to stick to the plan while still enjoying your glass of wine or dessert now and again. Within each stage you will receive helpful info guides, meal plans, nutrition guides and workouts:
Stage 1
Repair your body from the wear and tear from those less-than-healthy decisions you've made over the years.
Create a solid foundation with new healthy and sustainable habits.
We'll start with a gentle detox to clean out all the gunk that has been trapped inside, getting rid of things that cause inflammation like sugar, processed carbs, alcohol, and add in things that will help calm inflammation and rid your body toxins to prepare for that internal transformation that is coming your way.
Learn about proper exercise that will help get your metabolism revved and build strength that will prepare you for the next 2 stages of the challenge, as well as prepare you for every day life; you don't have to spend hours a day working out to see results!
We'll start repairing your diet one meal at a time, starting with breakfast and those in between meals/snack; we'll attack lunch and dinner later!
Includes detox, mindset shifts, and tips on making small changes that will lead to big changes.
Stage 2
Learn meal prep and planning, how to count macronutrients and portion foods and eating for your body type.
We'll tackle lunch and dinner preparation and ad it to what we've already established in the first stage.
This stage you will follow a step by step meal guide that will plan out every meal every day for this stage; I've take out all the guess work, all the work is done for you!
You will receive a custom meal plan and learn how to time your meals to use your carbs, fat and protein the most efficiently!
Stage 3
By really honing in on your macros and sticking to your workouts, we're challenging your body and your metabolism so that you really start seeing changes in your body, not just on the outside but how you feel on the inside as well.
I'll bring in some new methods of planning your week's meals, including those happy hours and parties you know you will splurge on!
We're turning away from all old mindsets and habits and towards a new healthy lifestyle that you can now sustain because you've been preparing for the past 6 weeks!
Pricing
$297 (or 3 monthly payments of $109)
Includes:
Initial consultation via email
Weekly email with tips, easy recipes and support from Hope
Supermarket sweep and pantry audit
Custom, detailed meal plan that will help boost metabolism, calm inflammation and boost energy, to followed by a menu guide
A guide for each stage of the program that will guide you and firm you about the changes you are to make
Access to a members only Facebook page where Hope will provide recipes, tips and all members can post their own tips and struggles through the program to keep each other motivated and accountable, as well s Live Q&A sessions with Hope to ask all your burning nutrition and wellness questions!
**Program add-ons and payment plans available, such as virtual coaching for the Nutrition Program, extra private sessions or additional menu or meal planning.
For questions about this plan email hope@inbalancestudios.com